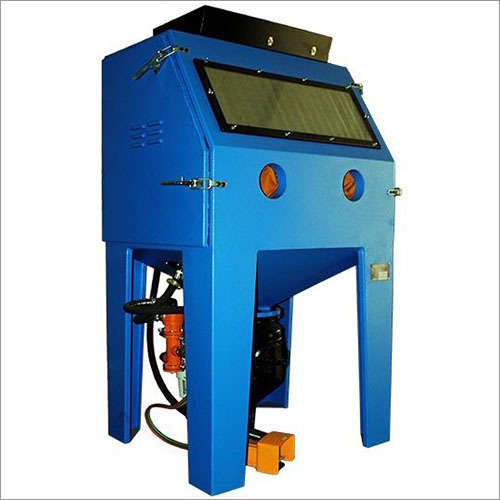 Suction Sand Blasting Machine
Product Code : 14
Product Description
ROCK'S SHOT BLASTING make Super Blaster works on induction-suction principle of abrasive delivery. The Super Blaster ensures continuous work and no interruption in the blasting cycle. It is recommended for light and medium sized components where the surface is to be cleaned to impart fine matte finish. Super Blaster is useful for heat treatment shops, tool, dye and mold makers and shot peening of light metal components etc. Super Blaster machines are incorporated with reclaimer that ensure uniform cleaning and finishing each time and in every operation. This is achieved by an automatic abrasive cleaning system built into the reclaimer. The dust and debris are separated and only clean and sized abrasive are carried to blast ensuring a homogeneous finish. Most cabinets of other make do not have the reclaimer, as is the standard practice.
Available in two standard models:-


RSB-SB-6060.
RSB-SB-9182.
RSB-SB-12090.
RAB-SB-15090

Options available on request:-
Rubber lining inside walls of cabinets.
Reverse jet cartridge filter dust collectors.
Higher output blast guns in place of standard.
Foot operated treadle switches for blasting.
ON / OFF Fitted with optional accessories.
Rotating table.
Contact Us
Office : J-429,428, M.G.C., Sangariya Industrial Area , IInd Phase, Sangariya , Jodhpur, Rajasthan, 342005, India
Phone :+917042181556